$10.00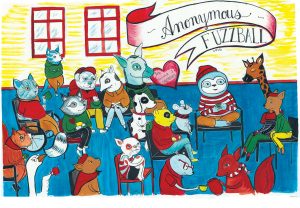 Anonymous Fuzzball!!!
A collection made up of animal wisdom, as overheard & drawn by Nicole J. Georges
54 pp, b/w with color cover
(c) 2018, limited edition
NOTES:
I am releasing this while on tour, so PLEASE ALLOW 2-4 WEEKS FOR DELIVERY.
$10 includes domestic shipping.
We have not get calculated international shipping, and will contact you with a new total if you need to ship international.
Out of stock